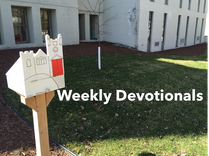 Dan Schmiechen is busy this week, so instead of his usual devotion, we offer this devotional from  Still Speaking Daily Devotionals. Dan will be back next week.

"Give thanks, for God is good. God's love endures forever. Let the redeemed of the Lord tell their story—those God redeemed from the hand of the foe…" - Psalm 107:1-2
Psalm 107 charges us to share our good news. Those who wandered lost…those who sat in darkness...those whose ships were nearly sunk…tell your story!  
So, here goes.  
Last November, my wife and I went to our 19-week ultrasound and found out that our baby was only measuring 15 weeks. After a series of tests, we were told we would lose her.  
Click here to continue reading this week's devotion.
---
 Scripture Readings - June 28-July 4, 2015
Sunday, June 28            Matthew 21:23-32
Monday, June 29           Luke 22:52-62
Tuesday, June 30           Luke 22:63-71
Wednesday, July 1       Luke 23:1-12
Thursday, July 2             Luke 23:13-25
Friday, July 3                    Luke 23:26-31
Saturday July 4               Luke 23:32-43
---