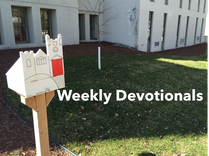 Note: Due to unforseen circumstances, there is no devotional from Dan Schmiechen.  In its place is the UCC Daily Devotional.
"The Lord is near to the brokenhearted, and saves the crushed in spirit." - Psalm 34:15-22
This one's a no-brainer.  When it comes to the down-on-their-luck and the never-had-any-luck, the down-at-the-heels and the can't-afford-any-heels, the downcast and the cast-off, God is a big ole softie.  Like a little old lady who can't stop taking stray cats into her house, God won't stop going to the crushed in spirit and taking them into her own heart.  Unlike the cat lady, however, God actually has all it takes to give every one of those spirits a good forever home.  And you're part of the plan.
Click here  to continue reading this week's devotion.
---
Weekly Scripture
| August 23 | Sunday | John 8:12-20 |
| --- | --- | --- |
| August 24 | Monday | Mark 13:14-27 |
| August 25 | Tuesday | Mark 13:28-37 |
| August 26 | Wednesday | Mark 14:1-11 |
| August 27 | Thursday | Mark 14:12-26 |
| August 28 | Friday | Mark 14:27-42 |
| August 29 | Saturday | Mark 14:43-52 |
---