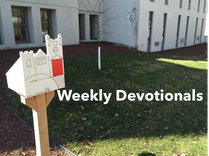 On a lake outside Ely, Minnesota there is a small island, the one side is a cliff.  The rock rises some forty feet out off the water with small ledge like paths leading to varying heights.  People come in boats to jump off the Jumping Rock.  Some choose a 10 foot drop into the water, others more daring climb up to the higher plunges.
When some people come to the Jumping Rock they are ready to do the 20 foot jump but down scale to 15 feet.  Or others are determined to jump 30 feet and they do it.
  Each person decides. 
 Sometimes when we struggle with decisions in our faith life, we assess too much, we think through too much and get turned and twisted into a pretzel.  We can become paralyzed by analysis.
I am not talking about making careless decisions, spur of the moment decisions and poorly thought out decisions.  And I am not talking about attending one of these life success seminars where well known people in sports, politics and business tell us what to consider in our lives before jumping.  Why people pay a big fee to hear some of these people speak who have lousy career records is a mystery to me.
Our faith decisions can be big or small.  Am I ready to forgive someone?  I really need to visit a friend who is seriously ill.  I am determined to take steps to strengthen my friendships.  Now is the time to form new loving habits in my marriage.  I have always thought about a dear friend that I wanted to write and I'll do it.  The time has come to forget myself and do a service task. 
 Go ahead and jump can mean I may have been postponing a decision.  Am I really stalling and afraid to do this?  Each one of us has to decide what our response will be.
Maybe we say back to God, "I have thought about this long enough.  Give me the strength and may your presence be with me when I say – it's time to jump."
Scripture: "The Lord is my light and my salvation: whom shall I fear?  The Lord is the stronghold of my life: of whom shall I be afraid."  Psalm 27:1
Dan Schmiechen
---
Weekly Scripture
| September 6 | Sunday | John 10:31-42 |
| --- | --- | --- |
| September 7 | Monday | Mark 15:40-47 |
| September 8 | Tuesday | Mark 16:1-20 |
| September 9 | Wednesday | Matthew 2:1-12 |
| September 10 | Thursday | Matthew 2:13-23 |
| Setpember 11 | Friday | Matthew 3:1-12 |
| September 12 | Saturday | Matthew 3:13-17 |
---