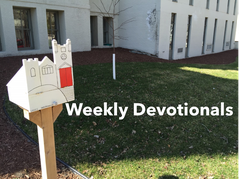 The well-known writer, Jewish Rabbi Harold Kushner was interviewed on Minnesota Public Radio about his new book "Nine Essential Things I've Learned about Life."   The Rabbi who has served congregations most of his life has written helpful books on good and evil, love and forgiveness.   His new book is about what he has learned at eighty years old.  
What intrigued me about the interview was a question the interviewer asked the radio audience: "What one important thing have you learned  in your life?"   It's a good question to ask.  No matter what your age, all of us have gone through experiences that have been good and bad, helpful and difficult, satisfactory and regretful.
So at your age what you have learned?  I'm not going to tell you mine but ask you to share with yourself during a prayer time or a daily reflective time – one or two insights you have learned?
Some people mistakenly believe one has to be a certain age to distill wisdom.  I have come across astute wisdom from a kindergarten child to a high school sophomore to a young adult up the age ladder into the nineties.   Sadly, I have discovered some people exhibit early signs of turning into fossils.  Growing up is a lifelong process.  It is a continual on-going formation.  
I don't believe each one of us suddenly reaches a magic "a-ha moment" and becomes wise.  The woman of my life can testify that does not happen.  It's more like an unfolding of one's life.  
Here is a suggestion:  get a piece of paper and pencil and write down one or two essential things you have learned in your life.
Move your own words into a prayer. 
-Dan Schmiechen
Scriptures for October 4-10
October 4

Sunday

  Luke 7:11-17

October 5
Monday

Matthew 8:28-34

October 6
Tuesday

 Matthew 9:1-8

October 7    
Wednesday     

Matthew 9:9-17

       
October 8    
Thursday       
 

Matthew 9:18-26

       
October 9
Friday

Matthew 9: 27-34

October 10
Saturday

Matthew 9:35-10:4