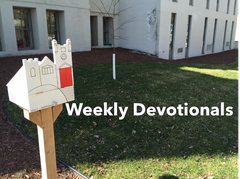 One never knows how helpful a life giving act can be.  A word of care, a word of prayer goes a long way to someone who has lost a job; mourns the death of a loved one; feels discouraged and down; struggles in a relationship; staggers in a personal faith; or is unclear where to go in one's life.
To say, "I think of you." "What do you need right now?" "I remember you in my prayers." "I forgive you."  These are powerful life giving acts.  
I have seen people raised from the dead when lifelines were tossed their way to live again.  I was one of them pulled from darkness to light.
We are not talking about "the happy ending" our society revels in.  We know deep down it's never easy to become a new person in Christ.  We know deep down faith inches along day by day.  We know deep down there is a resurrection hope that resolves to live in us.  We know deep down there is God's love and that's enough.  
When we share life giving acts to family, friends, neighbors and even to ourselves we never know how God's grace can surprise us.
"So let us not grow weary in doing what is right…..do not give up…whenever we have an opportunity, let us work for the good of all…"   Selections Galatians 6: 9-10
-Dan Schmiechen
Weekly Scriptures
October 18

Sunday

  Luke 10:1-2, 17-20

October 19
Monday

Matthew 11:16-24

October 20
Tuesday

 Matthew 11:25-30

October 21    
Wednesday     

Matthew 12:1-14

       
October 22    
Thursday       
 

Matthew 12:15-21

       
October 23
Friday

Matthew 12:22-32

October 24
Saturday

Matthew 12:33-42