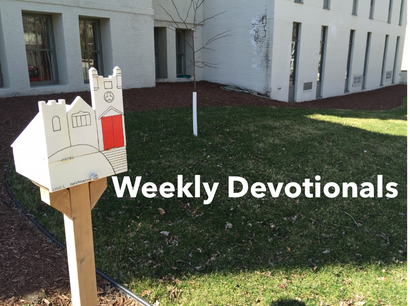 I go through regular ups and downs in my life.  I'm sure many of you do, too.  When I'm down, sometimes I feel like a little kid kicking a tin can down the alley of my home in St. Louis.  Everyday events and personal issues accumulate and before I know it, I'm in the dumps.  Sometimes my world is not going according to order – I get stuck shaping better faith habits, and frosted when my views and beliefs take a beating.  
I handle these times well and at times I don't.   What keeps me going is Easter Hope.   It is a constant in my life.  But let me say what it is not.  Easter Hope is not feeling good.  Easter Hope is not hoping things will get better – often they get worse.  And it is not looking for a silver lining in the clouds.   
Easter Hope pulls me out of dark funks to affirm once again: 
1) I still receive God's love in my life and for the good of the world. 
2) God's love overcame hate and violence in the life of Jesus Christ.  The world cannot overcome hate and violence – it does not have the power.  There is another alternative in the face of despair and cruelty and that is forgiveness, and reconciliation.  
3) I am called to witness to acts of mercy with love and forgiveness no matter how my life is going or how I feel.  This power is not my power; it only comes from God in Christ.  I am called to witness to that power. 
Somehow God's love triumphed over what the world offers.  Somehow a motely group of early disciples in the first century became a community of believers testifying to an inclusive grace that overcomes the world.  I am thankful to live in a life giving community of faith at Linden Hills.  
 Scripture: "Were not our hearts burning within us while he was talking to us on the road, while he was opening scripture to us?"…….. Read Luke 24: 13- 35
-Dan Schmiechen  
---
Weekly Scriptures