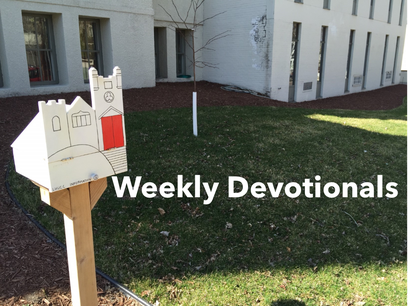 I sat sorting and throwing away love letters, family letters, professional letters, sermons, prayers, writings, family pictures, books and old newspapers – my life was literally flashing before me.  Nobody told me this would happen as Barbara and I prepare for a move to independent senior living.
What on earth was I doing keeping all this stuff?  Did my professional papers and family memorabilia provide me security?  Did all this stuff I accumulated for decades and I hardly looked at give me meaning? 
Such stuff does not save us.  You know it and I do, too.  It does not give us an identity or a faith.  It's only a quick impression of our lives and nothing more.   I can think of doing more creative things with my time and energy as I step into a new future. 
Maybe it's best to sort out such stuff in your life now.  Maybe you can give some of it away to neighbors and family?  Thank God for what was and move on. 
I didn't learn much sorting through piles of clinging possessions.  My feelings ranged from humor to irony, from embarrassment to confession.  Whatever your age, the possession question is always there - how much stuff do I need to live?  Each one of us has to answer those questions about ourselves.
Without permission from the Church Council, I am available (no charge, strong coffee and prayers) to come to your home and help you sort out possession questions in your life.  
"Therefore I tell you do not worry about your life, what you will eat or what you will drink, or about your body, what you will wear.  Look at the birds of the air; they neither sow nor reap nor gather in barns (apartments, houses and dwellings), and yet your heavenly Father feeds them.  Are you not of more value than they?"   Matthew 6:25-26
-Dan Schmiechen  
---
Weekly Scriptures
| | | |
| --- | --- | --- |
| Day | Date | Scripture |
|  Sunday | April 24 | In the Synagogue at Nazareth |
| Monday | April 25 |  Teachings in practical piety |
| Tuesday | April 26 | Teachings continued |
| Wednesday | April 27 |  More Teachings |
| Thursday | April 28 | Teachings |
| Friday | April 29 |   Illustrations of Jesus' message |
| Saturday | April 30 | Illustrations of Jesus' message |