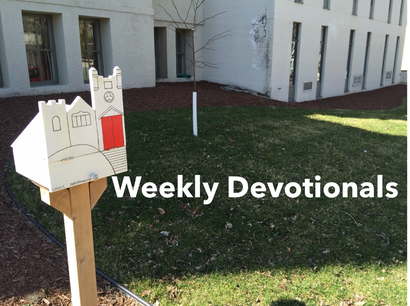 This is an old spiritual discipline.  It goes like this.  
Every day during this week choose a scripture passage from the Bible.  Choose your favorite passages or you may want to choose passages from the weekly scripture lessons posted in the Linden Tree. 
At the beginning of each day and throughout the day keep repeating the chosen scripture passage.  Do this wherever you are: at work, driving the car, sitting at home, shopping at a store or taking a walk – anyplace.
At the end of each day, ask yourself:  "What thought keeps rising within me?"  "Do I need to listen to them?  "Where am I being lead?"
Don't give up – it may feel strange to do this but stay with it.   Just like we learn to write by writing, hike by hiking, being a friend by offering friendship – so with this practice.  
There are no guarantees what will happen if you try this spiritual discipline.  There are no prizes, food coupons or a phone calls offering a free cruise trip to the South Pole.  This is an invitation to open your life to God's presence.  Listen where you are lead.
 -Dan Schmiechen
---
Weekly Scriptures
Day
Date
Scripture
 Sunday
September 18

 

Matthew 6:1-6


Monday
September 19

 

 Luke 1:1-4, 3:1-14


Tuesday
September 20

 

 Luke 3:15-22

Wednesday
September 21

 

Luke 4:1-13


Thursday
September 22

 

Luke 4:14-30


Friday
September 23

 

 Luke 4:31-37

Saturday
September 24

 

 Luke 4:38-44