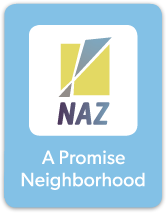 Feeling friendly?
On October 2nd and 9th  LHUCC will have a special collection for funds to help us maintain our status as a Friend of NAZ (Northside Achievement Zone). 
In the organization's own words: 
"The Northside Achievement Zone (NAZ) exists to permanently close the achievement gap and end generational poverty in North Minneapolis. Together with our partner organizations, we are walking side by side with low-income families as they put their children on a path to college."
During the Path to College walk held this past July NAZ parent Taejon Ward was quoted as saying, "This program is helping to show that even in darkness there is light. There are people still fighting for them, who are willing to go to the front line for them, willing to walk through fire them."
Twenty-three hundred Northside students are a part of the Northside Achievement Zone (NAZ). Please help us continue our proud tradition as a Friend of NAZ.