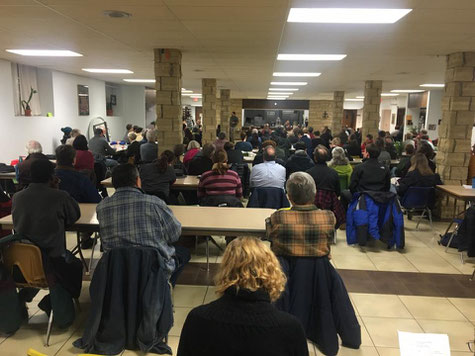 While it is not known just what steps the new administration may take in January regarding deportation, immigrant and refuge families have heard the campaign rhetoric and the expressed intentions of the now President Elect. Understandably,immigrant and refuge families are anxious --as are many other Americans.
With a great number of deportations a real possibility, Minnesota churches and other faith communities have organized quickly to establish "Sanctuary Congregations". A Sanctuary Congregation take on the ministry of housing an individual or family in their places of worship for a period of time while "Stays of Removal" for them are established. 
At a November 22nd meeting of 200 people from Minnesota faith communities, I joined other pastors and priests announcing an intent that the churches we serve be declared Sanctuary Congregations.  
Last Sunday 20 members of LHUCC participated in an information session about what it means to be a Sanctuary Congregation. All in attendance voiced their support for Linden Hills UCC  becoming a Sanctuary Congregation. They did so knowing many questions need to be answered and details worked out. But the gathering reflected a spirit of people ready and willing to act on faith for the good of families who could soon be in peril. The Board of Outreach has also endorsed this effort. 
If you were unable to attend and would like to hear more about the church as a Sanctuary Congregation, please join in a second Table Talk Ten presentation this Sunday at 11:15 in Fellowship Hall. If you cannot attend but would like to speak with me personally, please be in touch by email, text or phone.I am very willing and eager to answer questions, address concerns.   
On Tuesday, December 4th I will join with clergy and other faith community leaders to publicly declare our intent to be a Sanctuary Congregation. 
Blessings,
Pastor Eliot
612-597-5533 (cell) eliothoward930@gmail.com 
612-927-4603 (church phone)