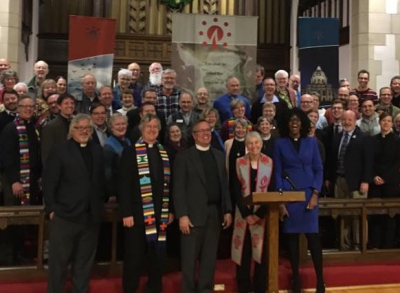 Clergy and lay leaders representing a range of congregations gathered on Tuesday at a press conference to express a shared commitment to shelter and otherwise aid the families and individuals now living in heightened fear of deportation. A number of clergy spoke at the news conference. (Read two of the statements by clicking here).
   An organizing meeting of Sanctuary Congregations and Supporting Congregations followed the press conference. While there are many questions to be answered about the sanctuary movement, the meeting provided some good suggestions on how to move forward in our  congregations.    
 Based on suggestions from this gathering and from LHUCC members, a proposal for moving forward with this work will be presented at next weeks Cabinet meeting. Additional meetings for all members and friends of LHUCC are part of the plan and will be scheduled for the end of December and January. 
   In the mean time, if you would like an update on this effort or wish to ask questions in the immediate future. please be  in touch. I am eager to hear your ideas, questions or concerns. Pastor Eliot  612-597-5533 (cell); eliothoward930@gmail.