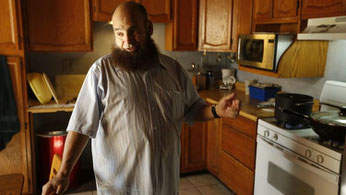 A article that appeared in Minneapolis Star Tribune knocked me off my chair.  The story was about a devout Libyan-born Muslim who lives in California.  He is a foster care parent and only takes dying children into his home so they are not alone.  The children are the sickest of sick in Los Angeles County's foster care program.  He said the above words about a dying girl, he held in his arms. 
The intake coordinator of the County's foster care program said: "Any one calls - this kid needs to go home on hospice, there is only one name can we think of - Mohamed Bzeek."  Since the mid 1990's Mohamed and his wife, Dawn (now deceased) have taken in terminally ill children who have no families.  His own son, Adam was born with brittle bone disease and dwarfism. 
"She has feelings.

 

She has a soul.

 

She is a human being….I know they are going to die.

 

I do my best as a human being and leave the rest of God."

 
Mohamed's faith has taken him to this ministry.  I can hear people say "I could not do that for a million dollars.  I would fall apart."  I don't believe we are to emulate Mohamed because we can't.  A question to ask is: "Where do I want to place myself at a crossroad of human need and respond?"
I hope all of us can say: "O God, help me choose wisely.  Give me the strength to be faithful in serving Christ."
"She has feelings.  She has a soul.  She is a human being….I know they are going to die.  I do my best as a human being and leave the rest of God." – Mohamad Bzeek 
-Dan Schmiechen    
 *Photo courtesy of Los Angeles Times.
---
Let the Scriptures Speak
Buy An Understandable Bible Translation: Speak to Pastors Eliot and Lawrence for recommendations.
Church Year: Epiphany means "to show", "to make known", "to reveal" the church's service to the wider world.  This season runs till Ash Wednesday, March 1 – beginning of Lent.  Colors are gold and white. 
Daily Scripture Reading: *Choose time of day  *Choose a quiet place  *Light a candle (symbol of God's presence)  *Begin with a prayer (Open my heart to your Word, O God."   *Close with a prayer (May your presence be with me today."
In Conversation with Scripture:  The Bible is filled with a variety of writings.  A few examples – poetry (Psalms); history (Joshua and judges); prophets (Joel, Isaiah, Micah); Gospels (Matthew, Mark, Luke, John); the early Christian Church (Paul's Letters) and end times (Revelation).  It is helpful to know what type of writings you are reading.  Again, check background information in your Bible.  
Spiritual Practice:  *When you read scripture, what word/thought comes to your attention)?  *What do these words say to you?  *What do you hear God saying to you?
Bible Readings For The Week:Sunday, February 26 :John 12:24-32
Monday, February 27: John 1:1-18
Tuesday, February 28: John 1:19-28
Wednesday, March 1: Luke 18:9-14
Thursday, March 2: John 1:29-34
Friday, March 3: John 1:35-42
Saturday, March 4: John 1: 43-51
Pray your own prayers.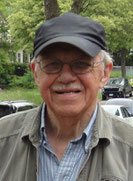 Dan Schmiechen is a retired minister and member of Linden Hills United Church of Christ.