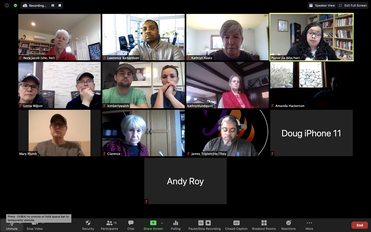 Dear Community & Friends of Linden Hills UCC,
As many of you know, the COVID-19 case numbers and hospitalizations in Minnesota are increasing at an alarming rate. It was my sincerest hope that we would be able to return to in-person worship this Fall, however, in light of this new information, the safety of our congregation is a top priority and I have consulted with the local church and state officials. For the duration of this calendar year, and until further notice, we will continue to worship online and gather in small groups by phone or Zoom. I am still accepting socially distanced one to ones, and you can schedule a time to connect with me here: https://lawrencetannerrichardson.as.me/ 
I, along with leaders in the congregation, understand that there is no replacement for in-person gatherings. As soon as there is a steady decline in the amount of COVID-19 cases and hospitalizations, and there is a viable way to mitigate the spread of the virus, we are all working hard to ensure that worship, faith formation, pastoral care, congregational connections, and community outreach are happening in robust, healthy, and meaningful ways. 
Minnesota Conference United Church of Christ Conference Minister, the Reverend Shari Prestemon released a statement to churches this week, offering guidance for us. She says, "It's time for us as churches, in every part of the state, to prayerfully consider again how our choices can help arrest the spread of this stubborn virus." You can read the rest of Rev. Prestemon's statement here: https://tinyurl.com/y4gfpuff 
If you have any questions or suggestions, please contact me. I look forward to being present with you in body and spirit.
Sincerely, 
Pastor Lawrence Richardson
Updated November 2020
---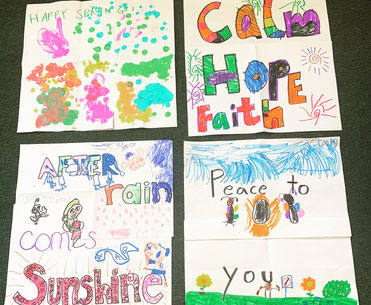 Dear Community and Friends of LHUCC,
We are entering the fourth month of physical distancing. Since mid-March, the Linden Hills UCC congregation and community groups have not gathered in the physical church building. Through online platforms like Zoom, YouTube, and Facebook, and the genuine connection and care expressed through phone calls, handwritten messages, and physically-distanced conversations, we continue to be the church together.
Thank you.
On behalf of us all, I share immense gratitude to our church trustees, especially Kolleen Sogard, for providing the cleaning supplies and to church sexton, Connie Martin, for cleaning and disinfecting the church offices, bathrooms, and high-touch areas. There is signage at the west (office) entrance instructing visitors to follow safety protocols, as well as a table just inside the entrance with masks and hand sanitizer for guests to use. 
Currently, our staff works in the building on a part-time basis and works remotely the remainder of the time. We have welcomed groups of up to 3 people in the fellowship hall for church business meetings, and we have welcomed individuals into the sanctuary for prayer or recording for worship. After a discussion with the church Cabinet and guidance from the health, civic, and Conference leaders in Minnesota, we have updated our church's response to the COVID-19 pandemic. 
-We will continue to worship virtually over the summer
-We will continue to facilitate small group gatherings online and offline 
-We will continue to follow the guidance of health and state officials by wearing masks, disinfecting often, and remaining physically distanced and at home as much as possible.
-We will continue to encourage groups of more than 3 people to gather online, physically-distanced, or outdoors
-We will revisit these decisions in September 
While we are hoping for the best outcomes that allow us all to safely gather together again, we are committed to seeing COVID-19 infection rates and related deaths decrease across our state and world. Here is information from the Minnesota Department of Health: https://www.uccmn.org/wp-content/uploads/2020/06/worship-guidance-ACC_tcm1045-433301.pdf and from the Minnesota Conference United Church of Christ: https://www.uccmn.org/resources/covid/. 
Let us be in prayer for our congregation, community, state, and world. Let us be in prayer for all those who are suffering. Let us be in prayer for those working diligently to find a cure for and mitigate the spread of this virus. 
I am grateful for each of you.
Pastor Lawrence Richardson
"I, therefore, the prisoner in the Lord, beg you to lead a life worthy of the calling to which you have been called, with all humility and gentleness, with patience, bearing with one another in love, making every effort to maintain the unity of the Spirit in the bond of peace." -Ephesians 4:1-3
Updated July 2020
---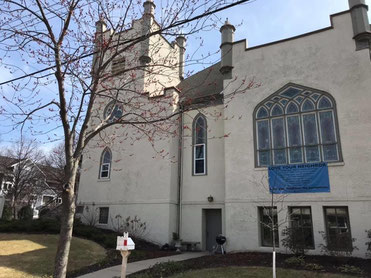 Dear Members and Friends of LHUCC,
We first want to thank all of you for the ways you have continued to be the hands, feet and heart of Christ while physically distanced from one another and away from the church building. Through God's grace and your faith the past 8 weeks have been a time of vitality, creativity and community connection even in the face of great challenge. 
Every week we get asked, "When can we come back to church?"  We cannot give a definitive answer to that question. However, we can provide you with our sense of the way the church would re-open once given the "go ahead" from the Minnesota Department of Health and other public health experts in the state. As we anticipate upcoming changes to the MN Stay at Home order, we have reviewed the Department of Health guidelines and have developed the plan below to help guide us on how to gradually and safely reopen the church building for public use.
We envision the reopening of the church to be phased in:
Week 1: Staff only will return to resume working in the church offices and plan for further stages of opening.
Week 2: Goal will be to resume in-person worship gatherings; video streaming of services will continue as well.
Week 3: Goal will be to resume Recovery and 12 Step Group meetings.
Week 4: Goal will be to resume all other programs and meetings.
These successive goals will be reviewed with each stage of reopening and changes made if circumstances require. 
Prior to re-occupancy the entire building would be sanitized. Once the building opens, protocols for sanitizing will be established and adhered to for all groups and gatherings. Social distancing and other mitigating practices (such as gloves and face masks) recommended by the Minnesota Department of Health will be required for all gatherings in the building. All of this requires much forethought and organization. Your thoughts and suggestions are always welcome. 
We are continuing to monitor updates from health and other officials in Minnesota. Information from the Minnesota Department of Health can be found at https://mn.gov/covid19/ 
We are grateful for each of you and look forward to the opportunity to join together once again.
Pastor Lawrence and Pastor Eliot   
Updated: May 5, 2020
---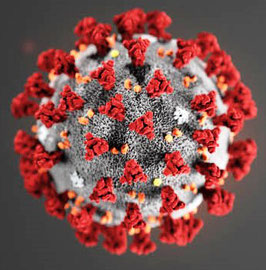 Dear Church,
Our world is in the midst of a public health emergency, and as people of faith it's our responsibility to balance our fear with faith, action and information. Here are some precautions that we are taking and currently considering for the days ahead to minimize the spread of disease and fear.
Sunday: Online Worship
Beginning March 22nd, Pastors Lawrence and Eliot, along with Daniel, our minister of music, will coordinate each week to prepare a virtual and interactive worship experience for the community. The service will be from 10am-10:30am and be broadcasted to Facebook https://www.facebook.com/LindenHillsUCC/ and archived on both Facebook https://www.facebook.com/pg/LindenHillsUCC/videos/ and our church's Youtube channel https://www.youtube.com/channel/UCtpeLtq4nfUMzC61lIOTTJQ. To give financial contributions to support the work of this ministry, visit http://bit.ly/lhucc_giving  
Monday: Monday Motivation
Each Monday, Pastor Lawrence will share a motivational message through email and social media. To subscribe to the email, email PastorLawrence@Lhucc.org. To find us on social media, visit Twitter.com, Facebook.com and Instagram.com and search for @LindenHillsUCC
Wednesday: Community Zoom Gathering
Each Wednesday at 5pm, beginning March 25th, you are invited to call in or login online for a community conversation. Our time will include a brief centering, an opportunity to respond to a question prompt given by Pastors Lawrence and Eliot, time to share your own words, and a closing community prayer. The information to access this Zoom Gathering is: 
To join by computer: https://zoom.us/j/109539996
Meeting ID: 109 539 996
One tap mobile
+13126266799,,109539996# US (Chicago)
+16465588656,,109539996# US (New York)
Dial by your location
        +1 312 626 6799 US (Chicago)
        +1 646 558 8656 US (New York)
        +1 253 215 8782 US
        +1 301 715 8592 US
        +1 346 248 7799 US (Houston)
        +1 669 900 6833 US (San Jose)
Meeting ID: 109 539 996
Friday: Linden Tree
With the majority of in person events being either canceled or held online, each week's Linden Tree e-newsletter will contain updates and information as it relates to our church and community. If you do not receive the Linden Tree, please email Alex in the church office at office@Lhucc.org 
Congregational Care
Our church deacons and pastors will call and visit those who cannot participate online and those who are our most vulnerable to check in with them and see if there are any needs.
Community Prayer
We have a number of ways to share our prayers and concerns as a church. You can email care@Lhucc.org; you can share them in our private Facebook Prayer Group: https://www.facebook.com/groups/497807747238113/; and you can share them with a pastor by calling the church office at 612-927-4603 or emailing PastorLawrence@Lhucc.org 
Coronavirus Information
Please continue to check this page as it will update as we know more.
"The Lord is near.  Do not worry about anything, but in everything by prayer and supplication with thanksgiving let your requests be made known to God.  And the peace of God, which surpasses all understanding, will guard your hearts and your minds in Christ Jesus." -Philippians 4:5b-7
Sincerely,
Pastors Lawrence and Eliot
Updated March 2020
---